Overview
LEVEL5 Carbon Steel Joint Knives with Soft-Grip Handles offer precision flex and feel for a smoother finish. These knives feature an incredibly strong, high-grade carbon steel blade construction for superior strength and durability.
DESIGN FEATURES
Precision-ground blade provides the proper flex point and feel for smooth finish.
High quality carbon steel blade offers superior durability over steel.
Lightweight soft-grip handle ergonomically designed for all-day use.
Metal hammer end for setting drywall nails.
Stay organized. All LEVEL5 hand tools feature large hang holes.
Tool Set Contents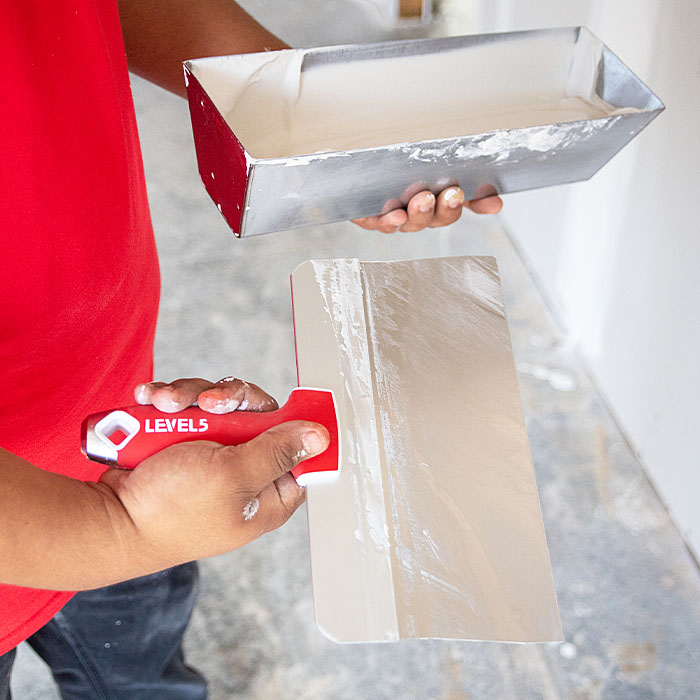 Care Instructions
High Carbon Steel and Blue Steel blades are often preferred by finishing professionals because they provide outstanding flex, feel and work ability. However, unlike stainless steel, they will oxidize/rust without proper care between uses. We recommend that the knives be cleaned thoroughly then lightly coated with WD-40 or a similar product prior to storage. The knives should also be stored upright while they are drying, to ensure water doesn't collect near the handle.
As an alternative option, we offer most of the same knife configurations with stainless steel blades for easier care and convenience (but a slightly stiffer feel).
PLEASE NOTE - On all of our carbon steel and blue steel finishing knives, we apply a thin, temporary protective lacquer finish to the blades; this provides protection from any minor oxidization between the factory through to the end user. The lacquer wears off quickly during the first few uses. However, if you would like to lightly sand it off, we suggest using 220 grit or finer sand paper. Be very careful - if you sand too aggressively, you may introduce grooves into the blade edge which can then appear in the mud finish.
Here's Scott Murray of Level5 Tools with a quick overview of how to properly care for your blue steel and carbon steel tool blades.
PRODUCT INFO
Warranty
1-Year Warranty
100% Satisfaction Guaranteed
LEVEL5 makes workhorse drywall finishing tools that set the standard for quality & reliability.
We back all of our tools with the strongest warranties in the industry and work hard to provide our family of finishers with the best customer service possible.
Do you have questions about your LEVEL5 Tool(s)? Call our toll-free support line at 866.562.4229 (local: 913.631.0804) or send us an email at support@level5tools.com. Our support team is available Monday through Friday, 7:30am to 4pm Central Time.
Manufacturer's Warranty
For its complete line of hand tools (other than knives with stainless steel blades are one-piece welded or have the premium soft grip handle, which have a lifetime warranty), LEVEL5 Tools, LLC. ("LEVEL5") provides a full one (1) year warranty to the original owner that these products will be free from defects in material and function. This warranty is valid in all countries/markets.
Terms & Conditions
The Warranty applies to the original owner and is not transferable.
The Warranty is limited to repair or replacement of the product, and does not cover direct, indirect, consequential, incidental or any other type of damage resulting from its use.
The Warranty does not cover normal wear, misuse, negligence, fire, theft, loss or intentional damage.
All shipments to the LEVEL5 facility must be freight paid. LEVEL5 reserves the right to determine whether to repair or replace any product covered under the Warranty. Discontinued products may be replaced with newer models when necessary.