Overview
DRYWALL FINISHING HAWK
The patent-pending LEVEL5 Drywall Finishing Hawk features a hard coat, non-stick finish that is easy to clean, wear and corrosion resistant. Your trowel/knife will glide across the surface making it the smoothest hawk you've ever used.
The LEVEL5 Hawk features a 13" X 13" square surface with rounded corners. Made of solid extruded aluminum this hawk will hold up under extreme conditions.
Developed for all-day use, the LEVEL5 Hawk features a soft-grip, ergonomic handle and durable foam pad for additional comfort. The hawk's handle is also hollow for easy mounting on scaffold or workstations, and the handle can be easily removed for easy cleaning & storage.
FLAT 0.7MM TROWELS
LEVEL5 Standard Trowels feature 0.7mm triple hardened gold stainless steel. This rigid blade design is ideal for drywall joint compound; plaster; EIFS; stucco, etc.
With precision ground edges and corners, LEVEL5 12" and 14" Standard Trowels are pre-broke for an ideal feel right out of the box!
The blade on LEVEL5 Standard Trowels is mounted to a precision cast handle mount (tang) with strong, stainless steel surface welded rivets. This attachment method is far superior to typical "through-rivet" designs and is guaranteed to stand up to the most severe work environments.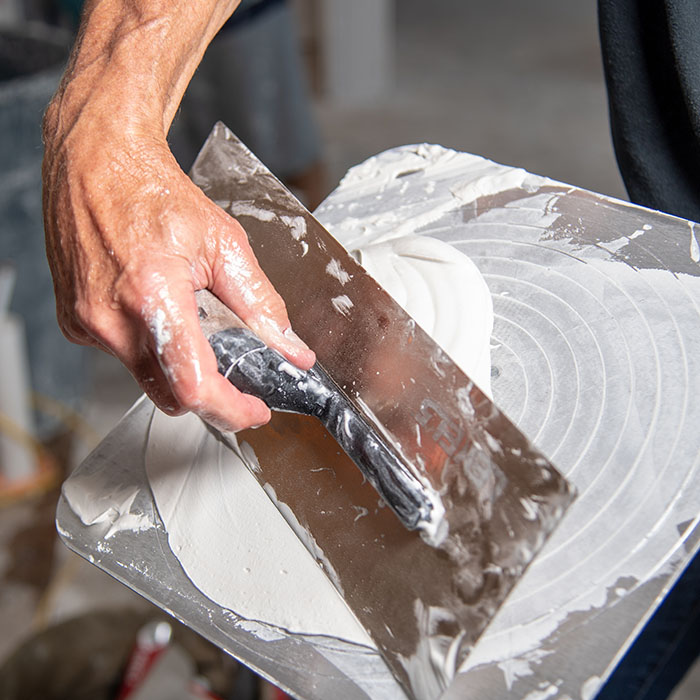 Tool Set Contents
Finishing Trowel

SKU: 4-961

Finishing Hawk

SKU: 5-325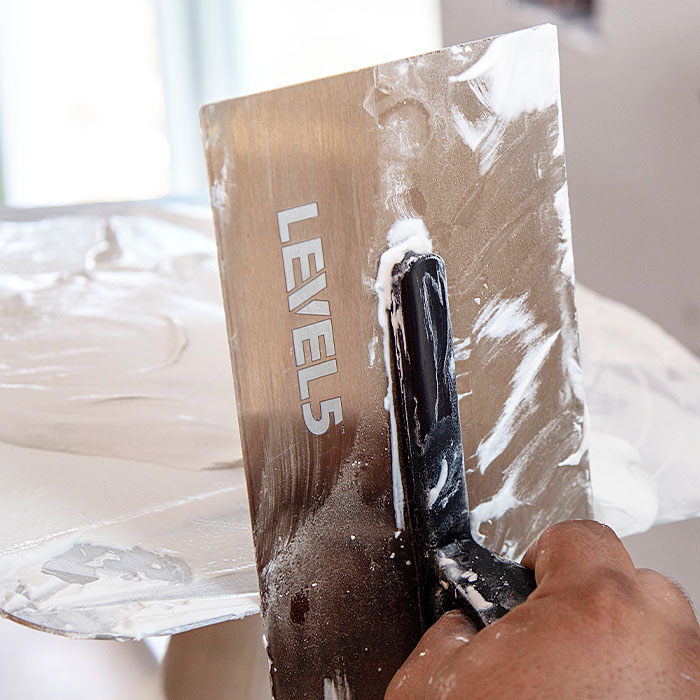 PRODUCT INFO
Warranty
1-Year Warranty
100% Satisfaction Guaranteed
LEVEL5 makes workhorse drywall finishing tools that set the standard for quality & reliability.
We back all of our tools with the strongest warranties in the industry and work hard to provide our family of finishers with the best customer service possible.
Do you have questions about your LEVEL5 Tool(s)? Call our toll-free support line at 866.562.4229 (local: 913.631.0804) or send us an email at support@level5tools.com. Our support team is available Monday through Friday, 7:30am to 4pm Central Time.
Manufacturer's Warranty
For its complete line of hand tools (other than knives with stainless steel blades are one-piece welded or have the premium soft grip handle, which have a lifetime warranty), LEVEL5 Tools, LLC. ("LEVEL5") provides a full one (1) year warranty to the original owner that these products will be free from defects in material and function. This warranty is valid in all countries/markets.
Terms & Conditions
The Warranty applies to the original owner and is not transferable.
The Warranty is limited to repair or replacement of the product, and does not cover direct, indirect, consequential, incidental or any other type of damage resulting from its use.
The Warranty does not cover normal wear, misuse, negligence, fire, theft, loss or intentional damage.
All shipments to the LEVEL5 facility must be freight paid. LEVEL5 reserves the right to determine whether to repair or replace any product covered under the Warranty. Discontinued products may be replaced with newer models when necessary.