Overview
The LEVEL5 Outside Corner Applicator is a specialized tool for evenly applying compound onto 90 degree outside corners.
Connect to any of your favorite LEVEL5 application tools, such as the MINISHOT™ Gas-Assisted Applicator Tube (#4-772), the Compound Tube (#4-741), or Corner Applicators (4-701 & 4-702), and you will make quick work applying bedding mud to outside corners prior to applying bead.
Manufactured from extruded glass-filled polymer, the LEVEL5 Outside Corner Applicator has channels for efficiency applying even ribbons of joint compound through the attachment onto both sides of the corner simultaneously. The LEVEL5 Outside Corner Applicator is longer than other competing applicator heads, which effectively eliminates 'head flip' when varying degrees of pressure are applied to the attachment while on the wall.
For handle attachment, the LEVEL5 Outside Corner Applicator features an integrated universal ball socket manufactured from premium stainless steel. This socket is compatible with ball end adapters from most leading manufacturers.
FEATURES
Extruded from durable glass-filled polymer
Channels designed to apply the perfect amount of bedding mud to outside corners
Longer design eliminates the tendency to 'flip' during use, like most competing models
Integrated stainless steel universal ball socket for handle attachment. Fits LEVEL5 compound applicator tools, as well as those from most other leading manufacturers.
Learn more here: https://youtu.be/Fi_WWQRTt_8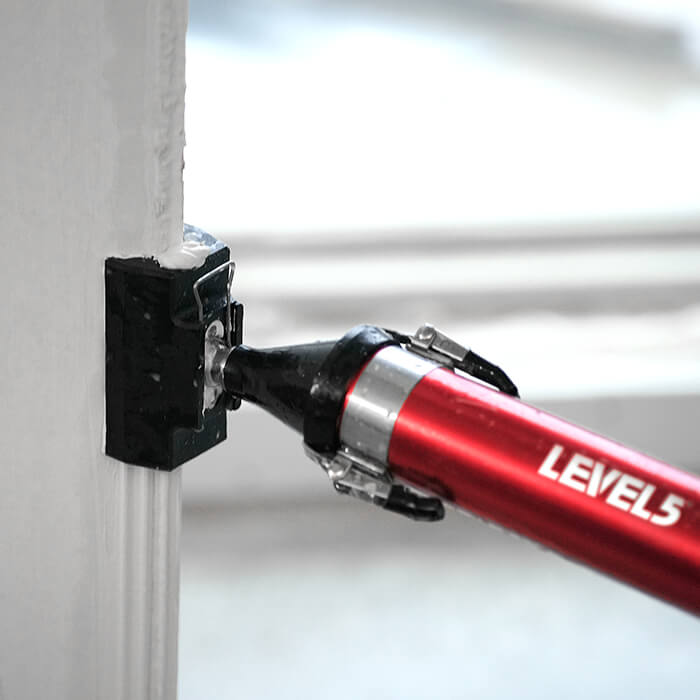 CLEANING & LUBRICATION
A Pressure Washer Makes Cleaning Fast
To ensure that your LEVEL5 automatic and semi-automatic tools last longer, it is crucial to clean them thoroughly before storing them between jobs. Although not required, a lightweight and portable pressure washer, commonly used for washing vehicles, can make light work of the cleaning process. There are many cost-effective options available on Amazon with good ratings.
Lubricate After Cleaning
Once your automatic and semi-automatic tools are clean, it is important to lubricate all the moving parts to displace any remaining water and reduce the risk of corrosion. IMPORTANT: avoid using standard WD-40 or similar lubricants as they can be caustic and damage the rubber seals and gaskets, which in turn can affect tool performance. In fact, it's best to steer clear of any spray lubricants unless you are certain of the propellant used. For example, many spray cans use solvents like benzene as a propellant, which is a solvent.
We recommend using simple, low cost 3-in-1 machine oil, available in metal squeeze cans, to lubricate every moving part before and after use. Alternatively, if you prefer to spray the oil onto your tools, you can buy it in a larger format and apply using a hand spray bottle.
Learn more: O090JcfrRjU
PRODUCT INFO
Warranty
7-Year Warranty
100% Satisfaction Guaranteed
LEVEL5 makes workhorse drywall finishing tools that set the standard for quality & reliability.
We back all of our tools with the strongest warranties in the industry and work hard to provide our family of finishers with the best customer service possible.
Do you have questions about your LEVEL5 Tool(s)? Call our toll-free support line at 866.562.4229 (local: 913.631.0804) or send us an email at support@level5tools.com. Our support team is available Monday through Friday, 7:30am to 4pm Central Time.
Manufacturer's Warranty
For its full line of semi-automatic drywall finishing tools and accessories, LEVEL5 Tools, LLC. ("LEVEL5") offers a full seven (7) year warranty to the original owner that these products will be free from defects in material and function. This warranty is valid only in the USA, Canada, Australia, the United Kingdom and Europe. A one (1) year warranty applies in all other countries/markets.
Terms & Conditions
The Warranty applies to the original owner and is not transferable.
The Warranty is limited to repair or replacement of the product, and does not cover direct, indirect, consequential, incidental or any other type of damage resulting from its use.
The Warranty does not cover normal wear, misuse, negligence, fire, theft, loss or intentional damage.
All shipments to the LEVEL5 facility must be freight paid. LEVEL5 reserves the right to determine whether to repair or replace any product covered under the Warranty. Discontinued products may be replaced with newer models when necessary.