Overview
LEVEL5's high performance corner roller enables you to remove air pockets and/or excess compound from behind freshly applied drywall tape with lightning speed.
The LEVEL5 corner roller is built for reliable, daily commercial use. Now beautifully precision-machined from billet aluminum, the corner roller features a new floating stainless steel wheel assembly that beds the tape with a straight, perfect 90 degree angle, even when going over imperfect internal seams. The wheels are mounted using Kevlar-reinforced nylon bearings and Teflon washers for ultra-smooth operation, less drag on the tape, and a long wear life.
A handle is required to use a corner roller. A heavy duty, integrated stainless steel handle attachment mounts the LEVEL5 corner roller to any LEVEL5 fixed length or extendable handle using the required corner finisher/nail spotter head adapter (#4-877).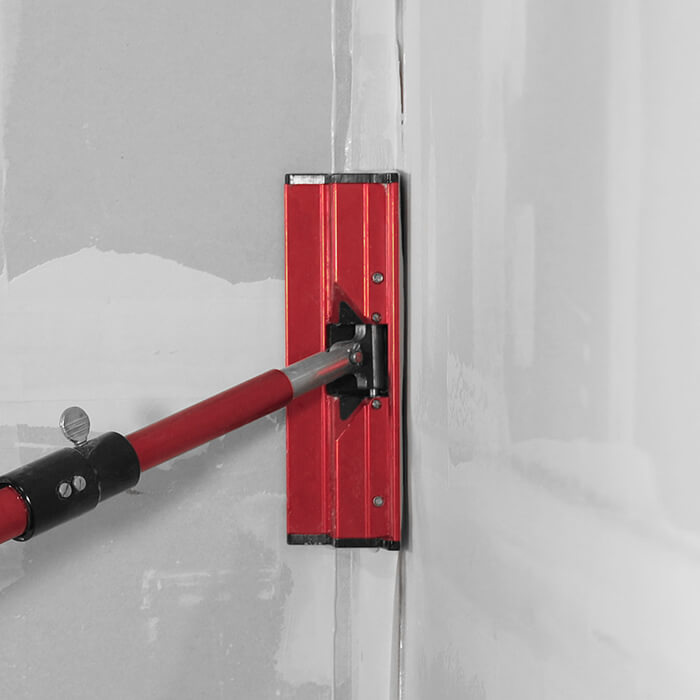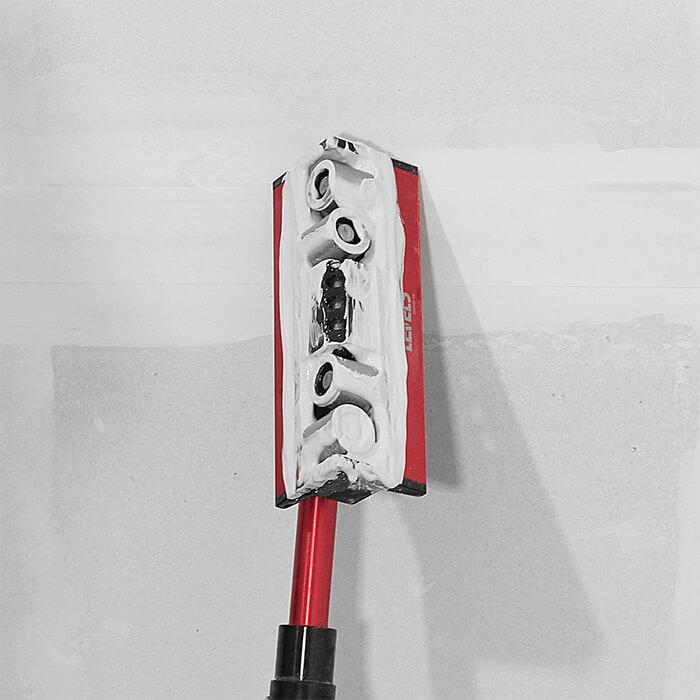 2ND GENERATION ENHANCEMENTS
Precision-machined, 4-piece billet aluminum body and sideplates.
Premium color anodizing for corrosion resistance.
Side plates are hard-coat anodized for additional durability and easy cleaning.
New floating wheel assembly that allows for perfect 90° when finishing over imperfect internal seams.
Kevlar-reinforced nylon bearings and Teflon washers for ultra-smooth operation, less drag on the tape, and a long wear life.
TIPS & TRICKS
After applying drywall tape by hand, with a "banjo" taper or automatic taper, the corner roller is utilized to firmly embed the tape within inside corner seams, while squeezing out any excess compound or air pockets.
Start from the middle of the tape run and roll back and forth (or up and down) towards the corners in wider and wider passes.
Use firm pressure to ensure the tape beds down tight.
The result should be a straight, sharp 90 degree corner in the tape with smooth, flat tape flanges on the two opposing walls. Your inside corner is now ready for coating and finishing!
We recommend you clean your corner roller before the compound dries so that it doesn't cake inside the rollers.
Lubricate the rollers with 3-in-1 machine oil before and after you use it.
USAGE VIDEOS
PRODUCT INFO
Warranty
7-Year Warranty
100% Satisfaction Guaranteed
LEVEL5 makes workhorse drywall finishing tools that set the standard for quality & reliability.
We back all of our tools with the strongest warranties in the industry and work hard to provide our family of finishers with the best customer service possible.
Do you have questions about your LEVEL5 Tool(s)? Call our toll-free support line at 866.562.4229 (local: 913.631.0804) or send us an email at support@level5tools.com. Our support team is available Monday through Friday, 7:30am to 4pm Central Time.
Manufacturer's Warranty
For its full line of automatic drywall finishing tools and accessories, LEVEL5 Tools, LLC. ("LEVEL5") offers a full seven (7) year warranty to the original owner that these products will be free from defects in material and function. This warranty is valid only in the USA, Canada, Australia, the United Kingdom and Europe. A one (1) year warranty applies in all other countries/markets.
Terms & Conditions
The Warranty applies to the original owner and is not transferable.
The Warranty is limited to repair or replacement of the product, and does not cover direct, indirect, consequential, incidental or any other type of damage resulting from its use.
The Warranty does not cover normal wear, misuse, negligence, fire, theft, loss or intentional damage.
All shipments to the LEVEL5 facility must be freight paid. LEVEL5 reserves the right to determine whether to repair or replace any product covered under the Warranty. Discontinued products may be replaced with newer models when necessary.
Parts & Components
Parts and Components
Corner Roller 2G
Compatible with SKU(s): 4-707
Download schematic PDF
Download schematic PDF
SCHEMATIC #
#
DESCRIPTION
PRICE
1
7116
1/16 x 1/2in Cotter Pin Fastenal 74268
$1.00
2
7119
Nyliner Bearing-Straight
$2.75
3
7204
Swivel Assembly
$30.00
4
7205
Coupling
$45.00
5
7206
Swivel Axle
$8.00
6
7430
CR Side Plate
$20.00
7
7431
CR Main Body
$65.00
8
7432
CR Center Block
$42.00
9
7433
CR Screw (#8)
$1.00
10
7434
CR Thrust Washer
$4.00
11
7435
CR Plastic Bearing
$2.00
12
7436
CR Metal Bearing
$5.00
13
7437
CR Wheel
$32.00
14
7438
CR Washer (#14)
$2.00
15
7439
CR Bolt (#15)
$3.50