Overview
The corner finisher (also called an "Anglehead") is used to fill and feather-finish inside 90 degree taped corners after the tape has been bedded down with a corner roller. The corner finisher increases efficiency dramatically versus hand finishing by finishing both wall surfaces of the inside corner simultaneously. Corner finishers provide a professional-grade finish with a sharper corner than can be achieved using a flusher-style finishing head.
LEVEL5 Corner Finishers are available in 2.5", 3", 3.5" and 4" sizes. Their body is precision-machined from billet aluminum that has been color anodized for corrosion resistance and long-term durability. The proven channel design distributes the compound evenly and efficiently across the corner finisher during the finishing process. Also, unlike competitive models that are screwed together, the outer frame is precision-machined from premium stainless steel that has been robotically-welded to ensure a long-term, leak-proof fit. To ensure ultra-smooth operation, LEVEL5 Corner Finishers come with long-lasting, rubber-tired wheels that ensure they effortlessly glide over the taped corner.
The finishing blades are made of premium carbide steel for long wear life and come preset for optimal finishing straight out of the box. The wings on the 3", 3.5" and 4" versions feature additional tension springs that enable them to accommodate minor angle imperfections while still providing clean, sharp corners. There are spring-loaded pins that enable you to deactivate one or both of these tension springs based on your preference.
For mounting, LEVEL5 Corner Finishers feature a universal stainless steel ball socket that will fit the ball-end handles, applicator boxes, and compound tubes from leading drywall tool manufacturers. The ball-end snaps securely into the ball socket using a locking retainer clip. The corner finisher can be easily removed using the spring-loaded quick release tab.
2G UPDATES & ENHANCEMENTS
The body of the corner finisher is now precision-machined from billet aluminum instead of cast aluminum for added strength
The aluminum body has been color anodized for enhanced corrosion resistance
The tires on the wheels have been upgraded to a higher durometer rubber to provide a longer wear life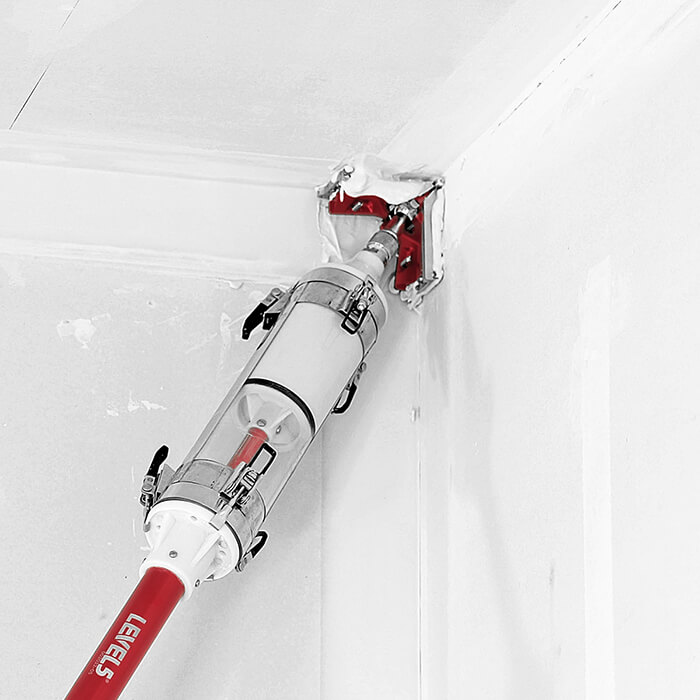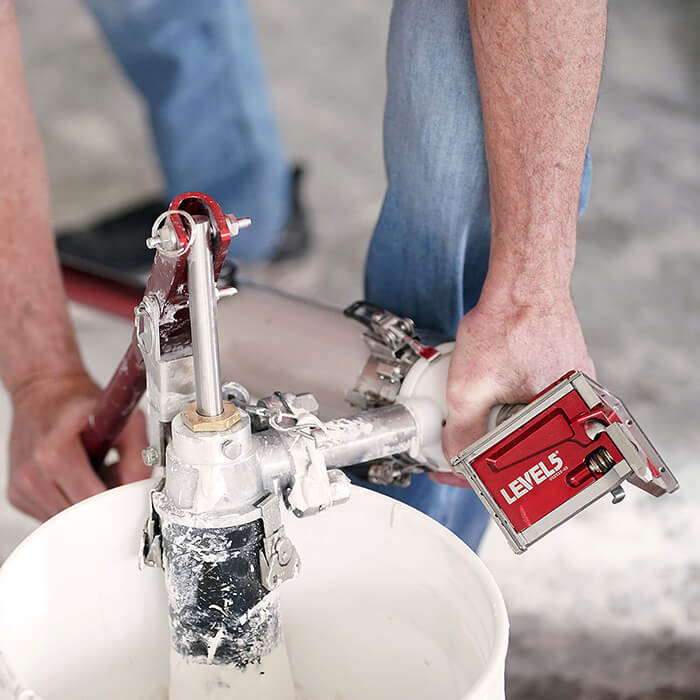 SUGGESTED USAGE
Corner finishers are typically used in pairs. Below are the two steps to finishing a perfect inside corner with your corner finishers:
Step One: The "Glazing Coat"
After bedding the tape into the inside corner using a corner roller (SKU #4-707), you'll find excess bedding compound squeezed out from behind the tape. Don't remove this compound. Attach your smallest corner finisher (usually a 3") to a corner finishing handle using a ball-end attachment (such as SKU #4-779). Use this combination to pick up the excess compound and glaze the tape. The result will be a thin compound layer on the tape with filled tape bevels, leaving no lines visible. Allow this glazing coat to dry before moving to Step Two.
Avoid applying a dry corner finisher on the wall, as it could damage the tape. Always prime your corner finisher before the first pass by filling its external "wings" with joint compound from your bucket until it's level with the frame edges. PRO TIP: After priming, also dip the corner finisher in a bucket of clean water for extra lubrication before applying it to the wall
Step Two: The Final "Fill Coat"
Mount your largest corner finisher (usually a 3.5") onto a corner applicator box (such as SKU #4-701), a MiniShot™ Gas-Assisted Compound Tube (SKU #4-772), or a semi-automatic compound tube (SKU #4-741). Prime the corner finisher as directed in Step One before starting your first pass. Be sure to eject a small amount of mud through the ball end nozzle into the corner finisher to remove any air pockets. Then use the applicator box or tube to apply a uniform compound layer through the corner finisher onto the wall. With the right compound consistency, you should achieve a sharp corner, fully covered tape flanges, and a feathered edge. Once dry, a light sanding is all that is required for a perfect, professional inside corner, ready for priming and painting.
TIPS AND TRICKS
For vertical inside corners, initiate from the top, pulling the corner finisher downwards until about 2-3 feet from the bottom. Then, invert the finisher and pull upwards from the bottom to meet at the center. The same method applies to horizontal corners; start from one corner and draw across the wall until 2-3 feet from the opposing corner, then reverse the finisher and pull from the opposing corner towards the middle.
Here are some size usage recommendations:
A popular choice among LEVEL5 users is the 3" finisher for the initial tape glazing coat and a 3.5" for the final fill coat. The larger finisher for the final pass ensures a feathered corner that requires minimal sanding.
Use a 2.5" corner finisher for tighter spaces such as inside corners near doorways or above windows, where a larger finisher may not fit.
The 4" corner finisher is perfect for remodeling projects involving sub-optimal inside corners, as it is more forgiving than the 3.5".
We highly recommend you do NOT make any adjustments to the corner finisher blades before calling our technical support team. There is a technique to setting the blades correctly and if you are inexperienced you can negatively impact how the corner finisher performs.
Cleaning & Lubrication
A Pressure Washer Makes Cleaning Fast
To ensure that your automatic and semi-automatic tools last longer, it is crucial to clean them thoroughly before storing them between jobs. Although not required, a lightweight and portable pressure washer, commonly used for washing vehicles, can make light work of the cleaning process. There are many cost-effective options available on Amazon with good ratings.
Lubricate After Cleaning
Once your automatic and semi-automatic tools are clean, it is important to lubricate all the moving parts to displace any remaining water and reduce the risk of corrosion. IMPORTANT: avoid using standard WD-40 or similar lubricants as they can be caustic and damage the rubber seals and gaskets, which in turn can affect tool performance. In fact, it's best to steer clear of any spray lubricants unless you are certain of the propellant used. For example, many spray cans use solvents like benzene as a propellant, which is a solvent.
We recommend using simple, low cost 3-in-1 machine oil, available in metal squeeze cans, to lubricate every moving part before and after use. Alternatively, if you prefer to spray the oil onto your tools, you can buy it in a larger format and apply using a hand spray bottle.
PRODUCT INFO
Warranty
7-Year Warranty
100% Satisfaction Guaranteed
LEVEL5 makes workhorse drywall finishing tools that set the standard for quality & reliability.
We back all of our tools with the strongest warranties in the industry and work hard to provide our family of finishers with the best customer service possible.
Do you have questions about your LEVEL5 Tool(s)? Call our toll-free support line at 866.562.4229 (local: 913.631.0804) or send us an email at support@level5tools.com. Our support team is available Monday through Friday, 7:30am to 4pm Central Time.
Manufacturer's Warranty
For its full line of automatic drywall finishing tools and accessories, LEVEL5 Tools, LLC. ("LEVEL5") offers a full seven (7) year warranty to the original owner that these products will be free from defects in material and function. This warranty is valid only in the USA, Canada, Australia, the United Kingdom and Europe. A one (1) year warranty applies in all other countries/markets.
Terms & Conditions
The Warranty applies to the original owner and is not transferable.
The Warranty is limited to repair or replacement of the product, and does not cover direct, indirect, consequential, incidental or any other type of damage resulting from its use.
The Warranty does not cover normal wear, misuse, negligence, fire, theft, loss or intentional damage.
All shipments to the LEVEL5 facility must be freight paid. LEVEL5 reserves the right to determine whether to repair or replace any product covered under the Warranty. Discontinued products may be replaced with newer models when necessary.
Parts & Components
Parts and Components
4in Corner Finisher
Compatible with SKU(s): 4-735
Download schematic PDF
Download schematic PDF
SCHEMATIC #
#
DESCRIPTION
PRICE
1
9510
CF Screw 6-32x15
$3.00
2
9511
CF SS Flat Washer
$3.00
3
9512
CF Rubber Tire
$1.10
4
9513
CF Wheel Bushing
$4.00
5
9514
Finisher Wheels
$9.00
6
7740
CF Lock Clip Spring
$1.10
7
9508
CF Screw
$1.00
8
7190
CF Slotted Screw 8-32 x 6.35
$1.00
9
9196
CF Buttom Clip 3.5in & 4in
$11.00
10
7546
4in CF Body
11
7544
4in CF Left Frame
$100.00
12
9525
CF 3.5in & 4in Skids
$16.00
13
9191
CF 6-32 x 1/8 SS Hex
$1.00
14
9816
4in Blade-Corner Finisher
$35.00
15
9509
CF Frame Tabs
$2.00
16
9501
Spring Tension Pin -CF
$5.00
17
9197
CF Top Clip 3.5in & 4in
$6.00
18
9526
4in Small Spring- CF
$8.00
19
9527
4in Large Spring - CF
$9.00
20
7741
CF Ball Locking Clip
$17.00
21
7742
CF Locking Clip Tab
$11.00
22
7075
6-32 x 1/2 FillisterHeadScrew
$1.00
23
7183
Insert Socket
$20.00
24
7312
CF 6-32 X 1/4 Bind Head Screw SST
$1.00
25
7545
4in Right Frame
$100.00