OVERVIEW
LEVEL5 Ultraflex Finishing Trowels feature a highly flexible 0.3mm thick European stainless steel blade. This trowel are used for final coat of drywall compound or plaster and enable finishers to produce a professional, flawless finish.
LEVEL5 Ultraflex Finishing Trowels come in three sizes: 12", 14", and 16". They have a sturdy, twin blade design that allows for maximum finishing blade flex without compromising the integrity and function of the trowel itself. Precision-ground edges and rounded corners ensure the smoothest possible finish by virtually eliminating lap lines or markings in the plaster.
LEVEL5 Ultraflex Finishing Trowels are manufactured using premium triple-hardened European stainless steel blades. They have a lightweight aluminum handle mount that is attached to the top blade using super-strong, stainless steel surface-welded rivets. The bottom finishing blade is mounted using an extremely durable, industrial tape.
The trowels also feature a patented composite leather handle grip that ensures a secure, non-slip grip - even when wet! The grip will also custom form to fit your hand for maximum comfort and reduced hand/wrist strain.
FEATURES
Highly flexible 0.3mm precision finishing blade.

Triple-hardened, premium stainless steel construction.

Brushed leather handle will custom form to user's hand.

High-strength but lightweight aluminum handle mount.

High-impact composite handle core for strength and durability.

Precision-ground, pre-broke edges and corners.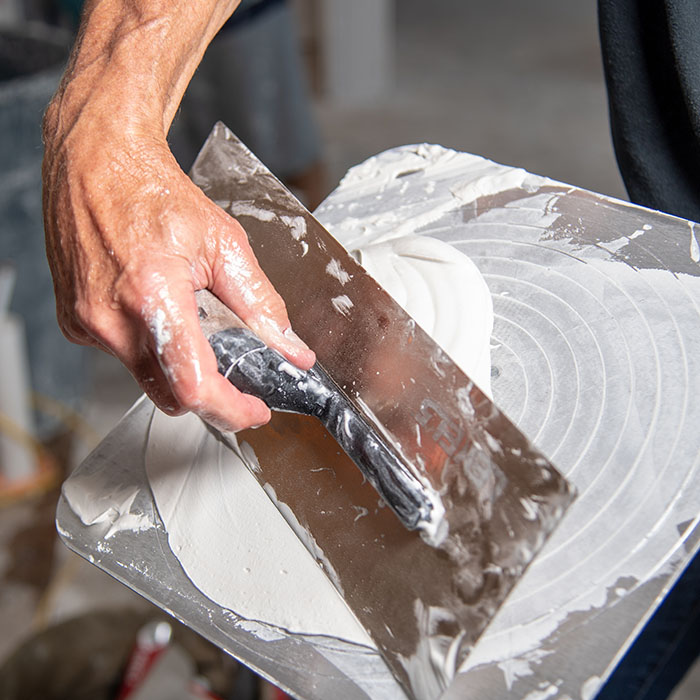 PRODUCT INFO
Warranty
1-Year Warranty
100% Satisfaction Guaranteed
LEVEL5 makes workhorse drywall finishing tools that set the standard for quality & reliability.
We back all of our tools with the strongest warranties in the industry and work hard to provide our family of finishers with the best customer service possible.
Do you have questions about your LEVEL5 Tool(s)? Call our toll-free support line at 866.562.4229 (local: 913.631.0804) or send us an email at support@level5tools.com. Our support team is available Monday through Friday, 7:30am to 4pm Central Time.
Manufacturer's Warranty
For its complete line of hand tools (other than knives with stainless steel blades are one-piece welded or have the premium soft grip handle, which have a lifetime warranty), LEVEL5 Tools, LLC. ("LEVEL5") provides a full one (1) year warranty to the original owner that these products will be free from defects in material and function. This warranty is valid in all countries/markets.
Terms & Conditions
The Warranty applies to the original owner and is not transferable.
The Warranty is limited to repair or replacement of the product, and does not cover direct, indirect, consequential, incidental or any other type of damage resulting from its use.
The Warranty does not cover normal wear, misuse, negligence, fire, theft, loss or intentional damage.
All shipments to the LEVEL5 facility must be freight paid. LEVEL5 reserves the right to determine whether to repair or replace any product covered under the Warranty. Discontinued products may be replaced with newer models when necessary.