Overview
Drywall finishers worldwide rely on LEVEL5's Drywall Compound Pump to be the backbone of their automatic taping tool arsenal. Lab tested to more than 250,000 cycles without needing replacement parts or repair and anodized for extreme durability and easy cleaning, you can depend on our pump to keep your tools primed and ready to go, seven days a week.
This particular tool saves an enormous amount of time during the drywall finishing process, making it a necessity in every finisher's tool set.
DESIGN FEATURES
Lab tested to more than 250,000 cycles without the need for replacement parts or repair.
Precision molded flapper valve and seal assembly minimizes pump priming.
Composite urethane cup seal provides longer wear life vs. traditional rubber seals.
Anodized, premium-grade aluminum components offer outstanding durability while prolonging the plunger life and reducing seal leakage.
An extra long LEVEL5 box filler valve is included with each pump (SKU #4-715)
Wrench included and mounted to the pump foot for convenience
Quick-release latches and pins for easy assembly/disassembly when cleaning
Backed by the industy's leading, no-hassle 7 year warranty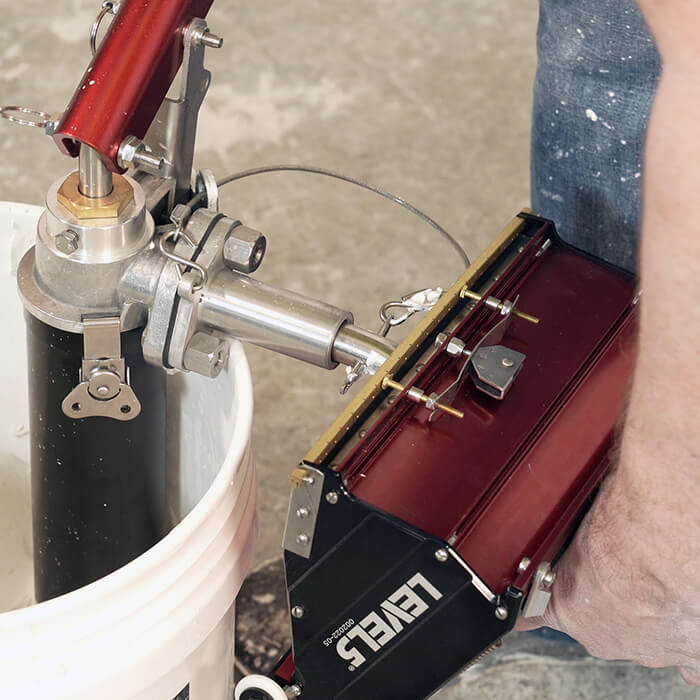 PRODUCT INFO
Warranty
7-Year Warranty
100% Satisfaction Guaranteed
LEVEL5 makes workhorse drywall finishing tools that set the standard for quality & reliability.
We back all of our tools with the strongest warranties in the industry and work hard to provide our family of finishers with the best customer service possible.
Do you have questions about your LEVEL5 Tool(s)? Call our toll-free support line at 866.562.4229 (local: 913.631.0804) or send us an email at support@level5tools.com. Our support team is available Monday through Friday, 7:30am to 4pm Central Time.
Manufacturer's Warranty
For its full line of automatic drywall finishing tools and accessories, LEVEL5 Tools, LLC. ("LEVEL5") offers a full seven (7) year warranty to the original owner that these products will be free from defects in material and function. This warranty is valid only in the USA, Canada, Australia, the United Kingdom and Europe. A one (1) year warranty applies in all other countries/markets.
Terms & Conditions
The Warranty applies to the original owner and is not transferable.
The Warranty is limited to repair or replacement of the product, and does not cover direct, indirect, consequential, incidental or any other type of damage resulting from its use.
The Warranty does not cover normal wear, misuse, negligence, fire, theft, loss or intentional damage.
All shipments to the LEVEL5 facility must be freight paid. LEVEL5 reserves the right to determine whether to repair or replace any product covered under the Warranty. Discontinued products may be replaced with newer models when necessary.
Parts & Components
Parts and Components
Compound Pump, 2nd Gen
Compatible with SKU(s): 4-771
Download schematic PDF
Download schematic PDF
SCHEMATIC #
#
DESCRIPTION
PRICE
1
9751
Pump Foot Bracket
$120.00
2
7550
Wrench
$3.75
3
7551
Screw
$0.47
4
7554
Wrench Bracket
$5.00
5
7364
1/4-20 Lock Nut
$1.00
6
9334
Pump Link
$25.00
7
7553
Black Plastic Washer (Link)
$2.00
8
7555
Metal Link Washer
$1.00
9
7363
1/4-20x2 Hex Head Screw
$3.00
10
7622
Quick Release Pin
$14.99
11
7622
Quick Release Pin
$14.99
12
7347
Handle Ball
$17.00
13
7128
Pumpball Screw
$1.00
14
7738
Pump Handle
15
7341
5/16-18 x 7/8 Hex Head Screw
$3.00
16
7342
5/16 Lockwasher
$1.00
17
7633
Pump O-Ring
$2.25
18
9635
Pump Head
$84.99
19
7324
U-Seal
$3.00
20
7323
Gland
$24.00
21
7345
Bushing Liner
$2.00
22
7325
1/4-20 x 5/8 Socket Head Screw
$1.00
23
7326
5/16-24 Hex Head
$1.00
24
7352
5-16-24 x 1 7/16 Std Screw
$8.00
25
7362
Gasket
$4.00
26
7355
Filler Body
$40.00
27
7353
Special Nut
$8.00
28
7350
Filler O'Ring
$1.00
29
7168
S-Hook
$2.00
30
7358
Chain Assembly (W/ 1 S Hook)
$14.99
31
7356
Discharge Tube
$20.00
32
7321
Piston Rod
$43.00
33
7329
Valve Disc
$6.00
34
7359
Retainer
$7.00
35
7328
Piston Cups
$9.00
36
7327
Retainer, Large
$10.00
37
7360
Lock Clip
$3.00
38
7343
3/8-16 Lock Nut
$1.00
39
7625
8-32 x 3/16 BH Screw
$1.00
40
9623
New pump latches
$20.00
41
9624
Pump Tube
$120.00
42
9916
AT Wing Nut
$1.00
43
7556
Metal Washer
$1.00
44
7557
Foot Valve Spacer
$5.00
45
7621
Pin
$15.00
46
9330
Pump Tube Foot
$12.50
47
7558
Screw
$0.47
48
9348
Screen for New Pump
$3.99